Nelson Wood Shims Installs Wood-Mizer Sawmill System to Drive Productivity
Von Wood-Mizer, Europe

Based in Minnesota, Nelson Wood Shims is the largest shim manufacturer in North America, producing high quality products for nationwide distribution. The company recently had a comprehensive industrial sawmill system from leading wood processing equipment manufacturer, Wood-Mizer, designed and installed at its state-of-the-art, high volume sawmill facility. The company made the decision to invest in a new sawmill system to maximize log yield, while minimizing investment and operational costs.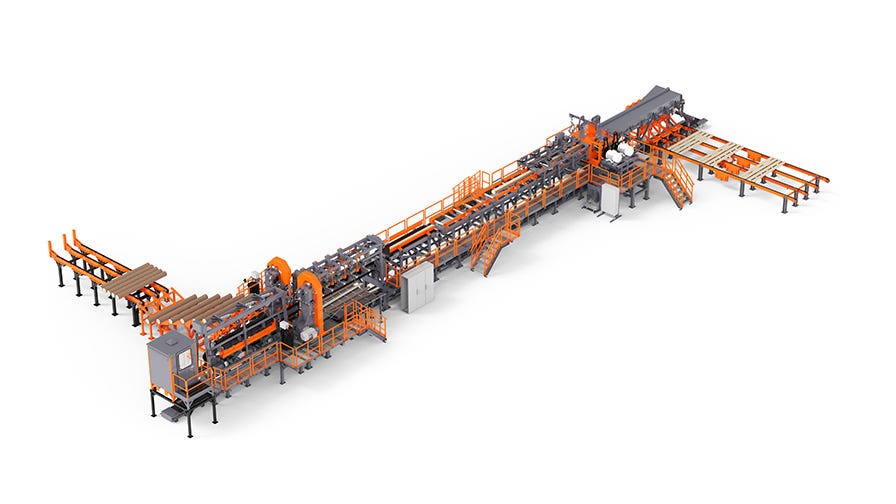 Nelson Wood Shims cuts a variety of shims from top quality coniferous wood grown in North America and around the world. A shim is a wedge-shaped piece of wood that is used to align and level surfaces or to provide support for construction projects. Nelson Wood Shims takes pride in providing high quality and consistent wood shims for DIY enthusiasts and construction contractors. With 65 years of manufacturing and marketing experience, their recognizable products are sold through many well-known and national home improvement retail stores. "To uphold the legacy of our founder Wilbur Nelson, the manufacturing of high-quality true shims consistent in width and length and with feathered ends, is very important to us," said Brian Peterson, President, Nelson Wood Shims.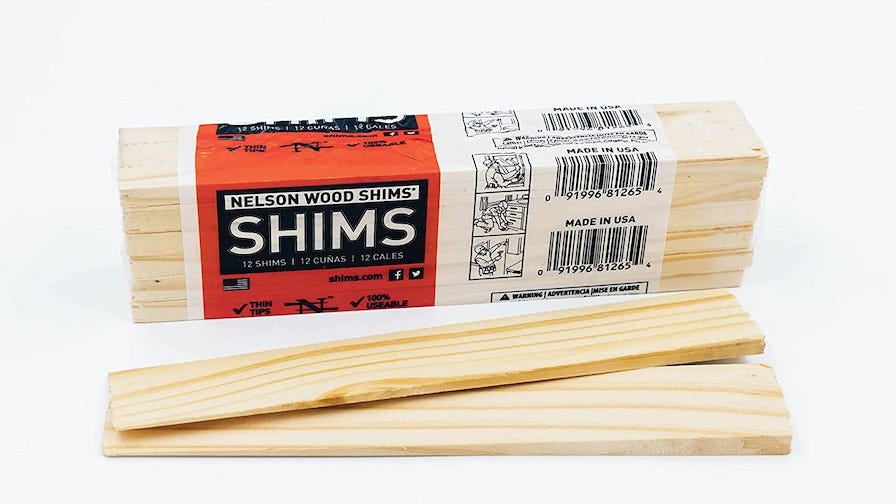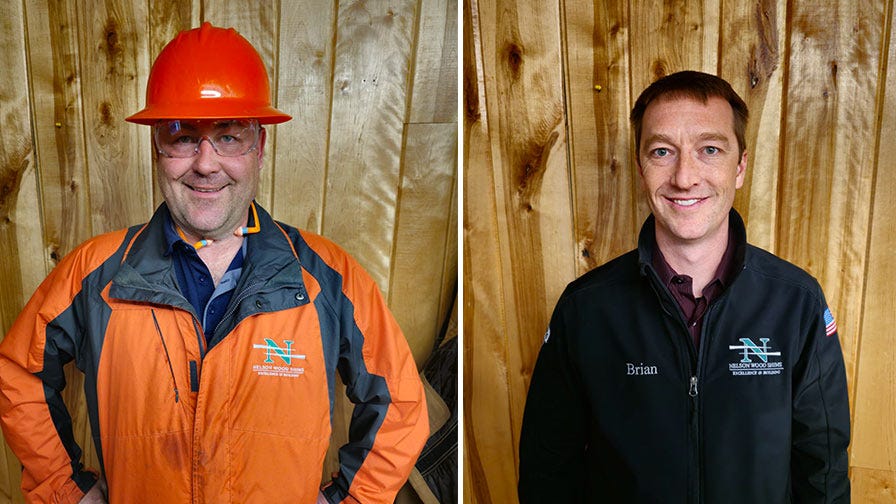 In the Summer of 2014, Nelson Wood Shims was not in the sawmill business. "We were struggling to procure the fiber we needed, and our wood shim sales continued to increase," said Scott Berg, Plant Manager, Nelson Wood Shims. "We began looking at solutions to our problem and Wood-Mizer had an entry-level sawmill that would fit in our current building at the time. Wood-Mizer helped with the learning curve as we had not operated a sawmill before." In 2015, Nelson Wood Shims added a Wood-Mizer LT50 Hydraulic sawmill to their operation to process logs. "We installed our first sawmill to process our own wood and vertically integrate the manufacturing process. Today, Wood-Mizer continues to help us further streamline and increase production without losing our reputation for high quality," said Peterson.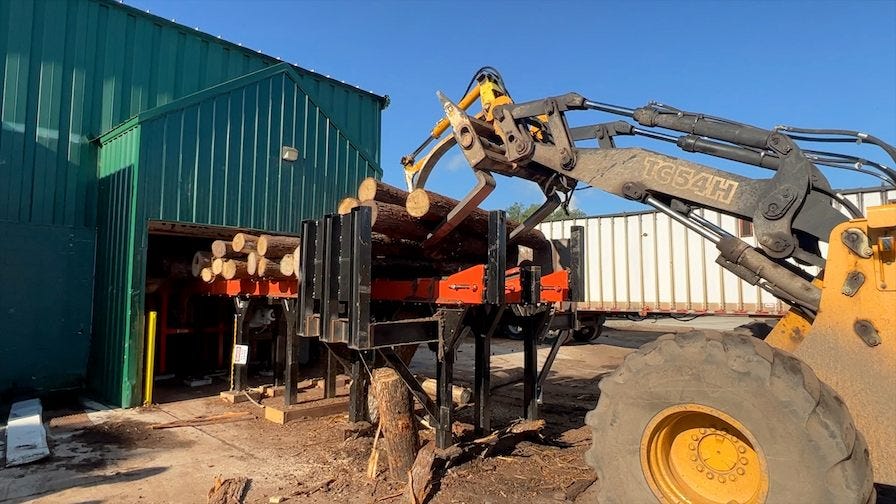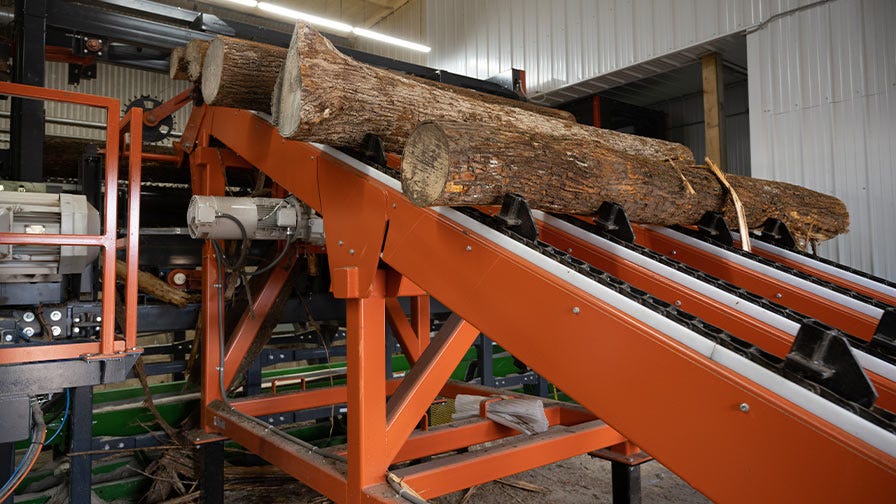 As Nelson Wood Shims continued to grow, the company turned to Wood-Mizer to find a solution to expand their sawmill capacity. "We were familiar with Wood-Mizer's support and desire to please their customer," said Berg. "Wood-Mizer provided an automated system at an affordable price." The Wood-Mizer Sawmilling Solutions specialist team designed and installed a new high-throughput commercial processing line to meet the specific requirements of Nelson Wood Shims. Luke Murray of Wood-Mizer said, "The Wood-Mizer range of industrial machines allows us to meet the needs of customers who are experiencing growth or have growth goals. We were thrilled to work with Nelson Wood Shims and install an innovative, heavy-duty sawing system on budget."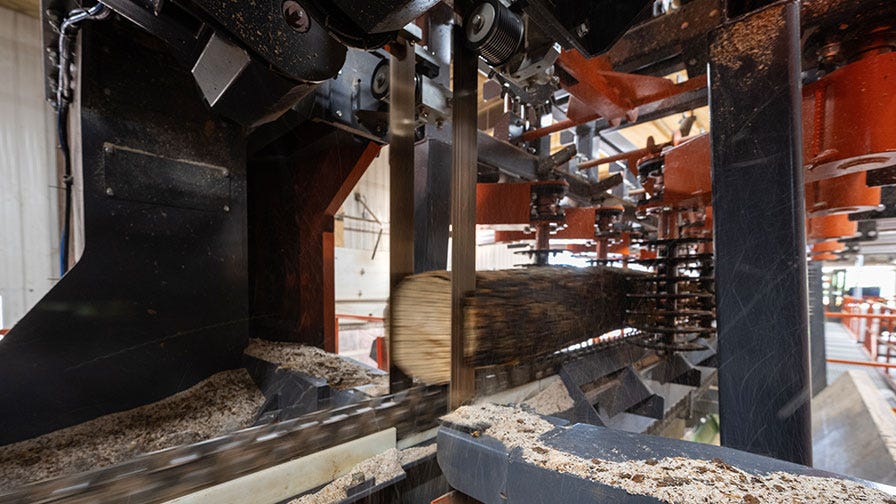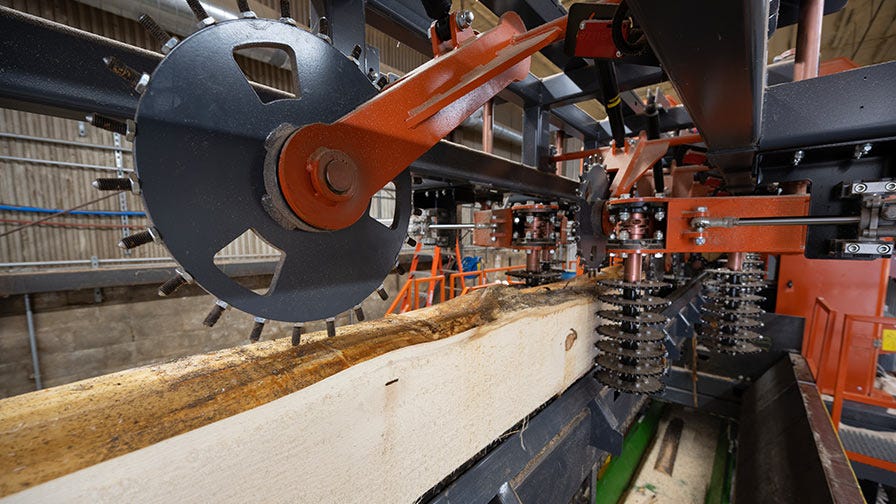 Nelson Wood Shims' sawmill system features a Twin Vertical Saw and a MultiRip Gang Saw that incorporates innovative system controls allowing one operator to process the logs to lumber for reduced labor costs. With the integrated material handling components, lumber moves through the system efficiently for sorting and stacking. The company counts on the system to provide highly accurate cuts along with an excellent sawn finish which improves recovery savings further down the line in the dry-milling and finishing process.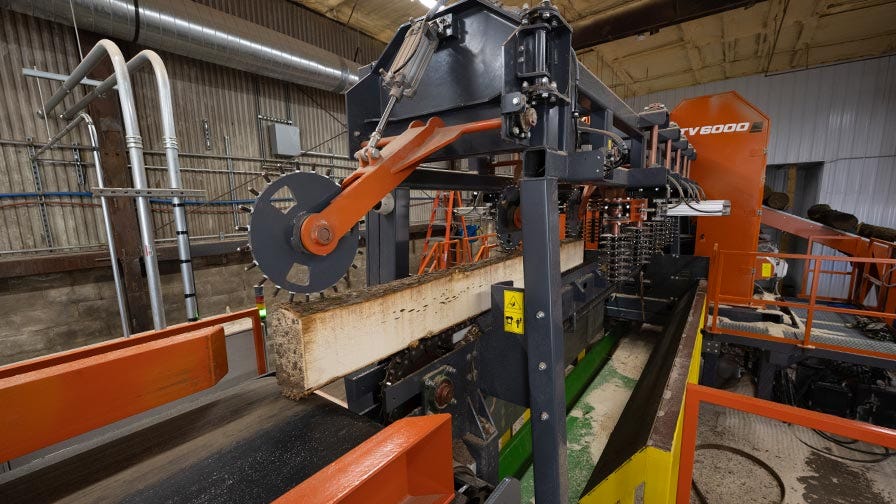 The TV6000 Twin Vertical Saw is Wood-Mizer's largest and most robust primary breakdown twin-vertical saw, handling a high throughput of small to medium diameter logs up to 21.8ft (6.6 m) in length. "The main priority at this primary stage in the log breakdown process is to achieve equal open faces on the sawn cant," said Murray. Our twin bands achieve equal open face cutting using a fast and accurate log feed system coupled with pressurized hold-down rollers and a sharp feed chain. This allows for higher recovery down the line at the multirips, also known as gang saws."

The multirips, saws capable of making multiple high tolerance cuts in a single pass, make up the next stage. Optical sensors detect the presence of material, activating pneumatically assisted driven hold-downs to apply pressure down onto the cant, guiding the timber accurately through the MR6000 Gang Saw. "The MR6000 is a workhorse machine, producing the majority of finished product in most sawmills," said Murray.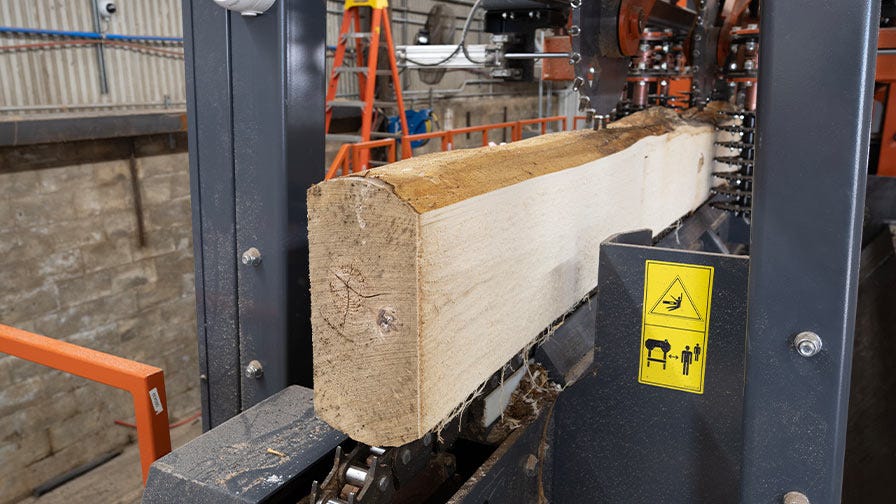 Providing added flexibility, each machine is designed to operate as standalone unit and can be configured differently in a sawmilling line should the requirements of Nelson Wood Shims change. Wood-Mizer's system engineers and manufacturing capabilities combined with project management, training and commitment to customer service allowed the team to build a heavy-duty, high recovery, and reduced labor system that is running efficiently for Nelson Wood Shims. "Our output has increased by 30% to 50% with less people," said Berg. "The consistent cuts through the gang saw also allowed for eliminating a planing process."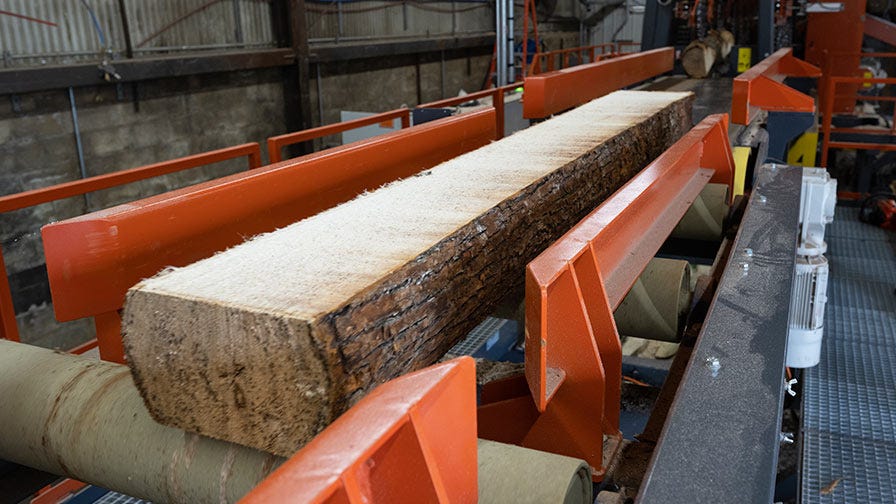 The installation at Nelson Wood Shims supports Wood-Mizer's global reputation for providing innovative sawmilling products and commercial sawing lines. "The design of this system is matched to the customer needs and coupled with solid construction and plenty of power. We believe it will produce high throughput and top-quality results for Nelson Wood Shims for many years to come," said John Smith, CEO, Wood-Mizer. "Our dedicated teams are focused on helping our clients build long-term solutions that generate maximum return on investment."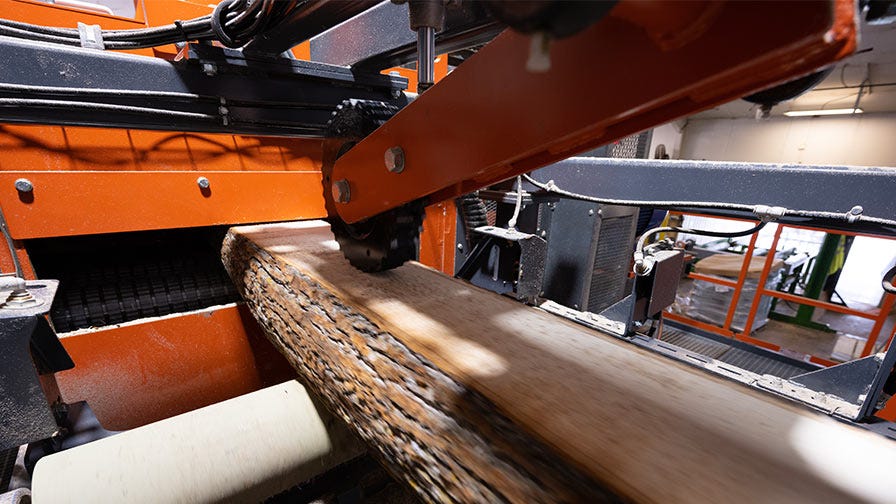 Peterson and Berg said that the installation process went very smoothly and the Wood-Mizer team provided in-depth training on all the equipment for mill personnel. "Wood-Mizer delivered on-time and provided excellent installation service. When we ran into challenges, Wood-Mizer was both fair and reasonable as we worked through them," said Berg. "We appreciate the hands-on involvement, service, and commitment the team provides to support us. This is the start of a long-term partnership with Wood-Mizer," said Peterson.